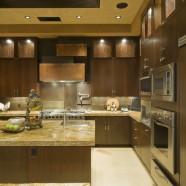 One of the least expensive ways to make a big impact with your home renovation project is by changing your kitchen lighting. By just switching out the lamps and adding new lights in different places, you can completely change the mood of the room. Go from plain to pizzazz by trying one of these unique kitchen lighting ideas:
Idea #1: Under Cabinet Lights
Install a set of lights underneath your kitchen cabinets. These lamps add ambient light to the room, plus can serve as task lighting for kitchen prep work. Attach the electrical wiring against the bottom of the cabinet and you can have the entire system installed without drilling holes or breaking into the walls. A modern looking makeover for minimal money, this decorating scheme is as practical as it is attractive. It's most effective if you use smaller lights that hide behind decorative molding, beaming down on the counter without being seen.
Idea #2: Use Chandeliers
The more elaborate, the better. Be it crystal or stainless steel, modern or antique, a chandelier adds just enough personality to make your kitchen pop. This option is great if you're renovating your kitchen. You can have your residential electrical contractor install this instead of the same old boring kitchen lights that have graced every ceiling you've seen since childhood. Chandeliers are just different enough to show off your decorating style, yet they do the job of lighting up the room perfectly. Bright enough to light kitchen tasks and large enough to spread ambient light throughout the room, look to living room lighting fixtures to find your next kitchen lighting.
Idea #3: Set the Stage
Every kitchen's got a few spots that get all the attention: the sink, that portion of the counter that holds a cutting board perfectly, maybe a spot right next to the oven. Instead of relying on ambient lighting to get the job done in these spots, install some bright task lighting dedicated to lighting up these areas. Have your contractor install them on separate switches so you can turn them on only when needed. You'll have a safely lighted area for cutting and other kitchen duties.
Idea #4: Go Eclectic
Can't decide which lamp you like the best? Why choose? Pick one similar element like creamy shades or brass fixtures and install a variety of hanging lamps that almost go together. Not for formal dining rooms and kitchens, the eclectic lighting scheme fits in with free spirits and confident decorators. This combination often looks like a custom designer did a rich decorating job on your home. Only you will know the truth.
Idea #5: Battery Back-Ups
Home renovations in south Florida, especially those in kitchens and other frequently-used parts of the house, often include lighting that works during one of the many power outages that the area is known for. Emergency lighting doesn't have to look like the lamps on your corner store's wall.
Idea #6: Go Retro
Haunt thrift shops and yard sales for old kitchen lighting fixtures from the 60's or earlier. Vintage is hot, and it might even inspire you to redo your kitchen with an entirely new retro theme. Have a residential electrical contractor inspect the fixtures to make sure they're safe and in good working condition before he installs them in your room. If the wiring is worn, get the lamps repaired, leaving the decorative outside alone.
Idea #7: Made in the Shade
Give your kitchen makeover a pop of color. Get rid of the plain old white shades that every kitchen fixture has. Paint yours a bright primary color or something in a deep jewel tone. Decoupage designer fabrics to the outside. Glue on bright coins or small game pieces. Turn your lighting into a conversation piece simply by adding a crafty shade filled with your personality.