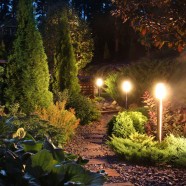 Your landscape lighting adds value to your home or business, so keeping it functioning is an important part of your regular building maintenance. Electrical maintenance can be as simple as visually inspecting the property each week to make sure everything is working, or as thorough as hiring an electrical contractor to to regular maintenance tasks. There is no single cause for landscape lighting failure; the causes are varied, with some preventable and some out of your hands.
Read More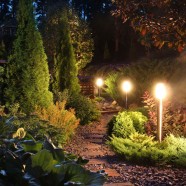 Spot lighting and general area lighting are an attractive and important part of many landscape plans. Why put in elaborate trees and hedge designs if you can't see them after dark? If you've decided to include landscape lighting in the plans for your property, set up an electrical maintenance schedule to keep your lights in good running order. Your residential electrical contractor can not only install all the outdoor light designs you want, he can tell you when your system needs maintenance during the year.
Visibility
Landscape lighting, by its nature, is set close to the ground and is vulnerable to damage from all landscaping machines such as lawnmowers and weed trimmers. Placing a set of green lights in the middle of the lawn might be a good design choice, but those lights aren't likely to last long. They'll fall victim to your lawnmower before the end of summer, most likely. Either choose a color that stands out from the lawn, such as black or a color to match your flowers, or put something around each light fixture that draws the eye. White wire fencing is inexpensive, light, and simple to install, yet you'll see them from halfway across the yard. And lights that you see are less likely to be damaged.
Materials
The atmosphere in your environment makes a big difference when it comes to your ability to maintain landscape lighting. Some metal fixtures can corrode when installed in salt air, like the air that's found in southeastern Florida. Although you may love the look of other metals, brass and copper are superior finishes for salt air. They may patina over time, but they're meant to, and the change in color is a natural process that won't affect your lights' operating ability.
Dead Light
One of the simplest forms of electrical maintenance happens when a light bulb seems to blow out. Often, it's not the bulb but the socket in which it's placed. Unplug the lighting system to make sure no power is running through it, then take the top off the light. Replace the bulb with another one from the same string. If the bulb still won't light, you probably have corrosion in the socket. Cut down an emery board until it's small enough to fit into the slot where the bulb goes, and slide it up and down to file off any corrosion that may be built up on the contacts. When you replace the bulb and turn the power back on, the lights should work like normal.
Maintaining Lights
Your residential electrical contractor should come out twice a year for basic maintenance. He should change all the bulbs to prevent them from burning out at inopportune times. He'll also spray a corrosion preventative compound to the base of the lamp to help prevent salt air and sprinkler moisture from corroding the light's contacts. New corrosion preventative should be applied each time the lights are changed.
Electrical Outlet
One of the best ways to maintain your landscape lighting is to make sure it's connected to a safe system. Since the outlet and plug for your lights will be outdoors in the elements and subject to rain, the plug should be connected to a GFCI outlet. If your home doesn't have this available, have your electrical contractor install one at the same time the lights are installed, or as soon after as possible if you're inheriting an older system.
Read More