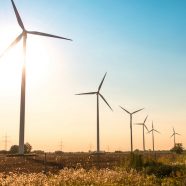 About 90 percent of the power used in south Florida homes is electric, with the majority of that being created by burning coal or natural gas. The call for renewable energy sources is growing, for energy conservation as well as economic reasons. Alternative energy sources aren't as common in south Florida as they are in other parts of the country, but installations are on the rise, revealing a brighter future for renewable energy in this part of the state.
Alternative energy isn't just the province of new construction. Home remodels and business renovations in south Florida can be the perfect time to add an alternative, cleaner source of power to your building. Depending on your environment, you have multiple options to consider:
Solar power can provide up to 100 percent of your daily power needs
Wind energy is completely clean, but not as effective in this area
Kinetic energy is a new technology with an exciting future
Solar Power
You would think that solar power in Florida would be a natural part of green building. After all, we're known as the sunshine state. In past years, though, homeowners and business owners have been forced to pay fees to power companies even if their solar panel array produces all the power they use. In essence, everyone in the state was forced to pay for being hooked up to a power company, even if they never used it.
Today, a combination of energy conservation lobbying and financial incentives in the form of substantial tax breaks are making solar energy a better bargain for south Florida residents. While it can take years for a full panel array to pay for itself in saved energy costs, the fact that solar energy doesn't add to greenhouse gases can tip the scales when deciding to install panels.
Wind Energy
Compared to the great plains of Kansas and Wyoming, south Florida doesn't have a steady supply of strong winds to count on. Many wind generators are needed in a given area to produce useful amounts of electricity because of the relatively ineffective technology available. The numbers for this get more attractive for wind turbines placed over the water and on extra-high poles that catch stronger air currents, but in south Florida this is only possible for residents with large plots of land or long water frontage.
Kinetic Energy
One of the most exciting new concepts in green building for the south Florida area is using kinetic energy to produce electrical power. For residents who have property on the water, this can be a solid source to rely on in years to come. Kinetic energy power plants are small, floating machines that are anchored to the sea bed. Attached to the ground with a cable, these machines, housed in pods, bob up and down with the waves. Every time the pod goes up or down, it creates a small amount of energy that can be stored to be used later. Some brands include small water wheels that increase the electrical output, while others are simple passive systems with levers that move with the waves.
A kinetic energy production field requires multiple pods installed in the water, so it's obviously only useful for residents with water frontage, but it's growing in popularity in some communities for the production of municipal power as well as for individual owners.