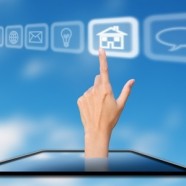 Smart homes have been a major trend over the past few years, and the trend towards transforming our living spaces and bringing the internet of things into our homes won't be going anywhere this year. In fact, there are some pretty amazing new electrical protection gizmos and gadgets that you can expect to see a lot more of this year, including:
Facial recognition software. What used to be the preserve of spies and government agencies has gone mainstream, and new video surveillance technology for homes includes software that can recognize whether the person who entered your home is family or a stranger, and will tell you as much on your smartphone!
There are also products on the market that can differentiate between humans, pets and other types of motion, which means fewer false alarms on your home security system.
Smart garage doors are another trend this year, with products now available that allow you to retrofit your existing garage door opener to talk to you, also via your smart phone.
Monitor, turn on, turn off and check in on appliances thanks to technologies from major manufacturers like LG, that let you check in on your gadgets from the office or the other side of the planet. Oh, and while you're at it, consider switching your fridge for one that shows you what's inside without having to open the door. Opening and closing refrigerators can waste a lot of power if you're someone who can never find what they're looking for!
Voice recognition, fingerprint activated locks and wearables that tell you when someone has entered your home by vibrating are all security features that we are going to see more of this year and beyond.
CO2 and gas alarms on your smart phone, as well as the alarm unit itself. Why wait to get home and discover a problem, when your home can let you know before there's a major problem?
There's even a system that can detect leaks and mold in the walls of your home, using your existing wiring as a sensor network. Talk about safe and secure homes! Not even fungus gets past the new technologies!
Baby monitors have gone high tech too, with wireless pan, tilt and zoom cameras replacing nanny cams and baby monitors, but if you do opt for this type of camera, make sure that you pay close attention to network security. After all, major online security companies have specifically identified cameras as a weak point for hackers.
Finally, there are a range of products designed to make sleep safer, from crib units that alert you when a toddler has escaped, to beds that track kids' sleep patterns.
There's no denying that the smart home offers unparalleled levels of electrical protection this year, and whether you're looking to go high tech or just upgrade your home security system a little, it's a good idea to talk to an electrician in South Florida about your plans. They can help you decide what's possible with your existing wiring, or what changes need to be made.