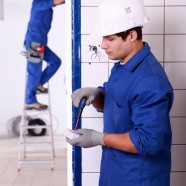 A quick tour through South Florida will find charming neighborhoods filled with classic older homes. Instead of tearing down and rebuilding, savvy homeowners are renovating their existing buildings, saving money while keeping the unique Florida flavor. A lot of these classic older homes are structurally sound and mostly need cosmetic work, but it's always a good idea to look at the wiring during a renovation. Residential rewiring isn't just for putting plugs in more convenient places; it can be needed for many different reasons.
Increased Use
When many of these classic homes were built, entertainment included evenings around the radio and playing cards at the dining room table. With today's increased electrical use, you're pulling huge amounts of electricity through a system designed for minimal loads. Compare the electrical usage in the 1930s with today's mega refrigerators, air conditioning, computers, and gaming systems. You'll see why all but the most casual summer cottages are in the need of a rewiring job.
Older Hardware
Your older South Florida home may have been state-of-the-art when it was built, but it's probably sadly out of date. Older electrical hardware is more likely to burn out, short out, or become a fire hazard than newer equipment. A quick search through your home during the renovation process can find some clues that your equipment needs replacing.
Fabric covered wires instead of today's modern vinyl or plastic coated variety
Bakelite wall switches
Ceiling lights with pull chains
Electrical outlets with only two plug holes
A Fuse Box
One of the biggest clues that you have an older electrical system is that you have a fuse box instead of a modern circuit breaker. Fuses prevent electrical overload by burning out, just as a circuit breaker does when it flips a breaker, but they require replacement every time they blow. If your system is old enough to have fuses, it's likely they're blowing out often, because you're using much more power than the system was designed for. Make a circuit breaker part of your residential rewiring to ensure your system is rated for safe usage.
Outdoor Living
Seventy years ago, outdoor home use usually meant sitting on the porch after dinner or letting the kids play in the yard after school. Now most South Florida homeowners consider their backyard as another room in the house. It's great for entertaining, with barbecues, pools, and fire pits, and often used as an alternate dining room for many months of the year. With all these additions being done to the home, you'll need lots of extra electrical wiring and outlets to handle it. From outdoor lighting for dining as well as security, to pool filters and landscape lighting, your residential rewiring job probably includes quite a bit of work outside of the house itself.