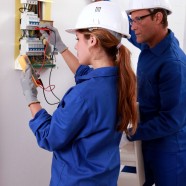 Whether you're renovating a small business or building an entire subdivision, you may be tempted to hire a general contractor to take care of your electrical needs. A contractor may claim to be less expensive than a licensed electrician, but his lack of knowledge and experience with the small details of electrical work can end up costing you in the long run. An experienced licensed electrician can do the correct electrical wiring job for your building project, economically and safely.
Planning
Restaurant retrofits have different wiring requirements than community centers, but only an experienced professional can know all the details needed for each job. An experienced professional electrician will sit down with you in the early planning stages of a project, blending the electrical wiring plans with all other aspects of construction. He knows about specialized wiring plans, depending on the type of business you will be building. Whether you need extra outlets for kitchen equipment or an area with specialized task lighting for an office, you'll get a job that fits your need better by using someone with experience.
Cost Savings
The cheapest way to go is not always the most cost-effective method when hiring contractors for your commercial building or renovation project. An experienced licensed electrician can save you money in a number of ways when hired instead of a general contractor. While contractors will have some electrical experience as a result of doing a variety of work, a licensed electrician knows all the small details that make up a efficient and complete electrical wiring job.
Experienced electricians make fewer mistakes, requiring less reworking on a project
Years of experience means knowledge of multiple methods of doing a job, including the most cost-effective one for you
Licensed contractors often have relationships with suppliers, and can get raw materials for the job cheaper
Contractors with experience know the best way to install an electrical wiring job, cutting down on time and money
Ideas
A general contractor may be perfectly competent to follow your directions and install exactly what you are asking for, but an experienced licensed electrician will know enough about the subject that he can offer suggestions that improve on what you've already done. Instead of simply being an employee, an experienced electrician can be a partner in your project, showing you improved ways to install electrical wiring and offering suggestions about outlets, lighting, safety, and security. Specialization creates expertise, and experience gives a professional the experiences to find multiple options for your project.
Legality
Each community has its own building codes, for electricity and electrical wiring as well as for structure. Hiring a licensed professional electrician will ensure you work with someone who knows building codes and has worked within them for years. You'll avoid work stoppages that come from having to redo sections to bring them up to code, and you'll sail through city inspections once your project is nearing completion.