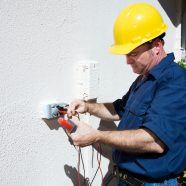 Older homes, like many in the south Florida area, often need a complete residential rewiring to keep them safe and up to code. If your home is more than 50 years old, it's time to consider contacting a professional electrical contractor to inspect the condition of your home's wiring. Even if age isn't a consideration yet, there are other signs that indicate you need to have your wiring inspected. Look for:
A faint burning smell or sizzling sound, especially when appliances are turned on
Circuit breakers that trip or fuses that blow on a frequent basis
Brown discoloration on switches and outlets and the walls around them
Residential rewiring isn't a minor job, and the cost depends on many variables. It's a serious renovation job, but in many instances there are ways to minimize the costs. 
The Home Rewiring Process
Rewiring your home involves removing all the old wiring and replacing it with newer, non-metallic wire. This new wire doesn't get hot when surrounded with insulation, it's easier to work with and it's safer inside your walls.
In the most elaborate wiring jobs, electrical contractors remove the interior walls, replace all the wiring and rebuild the walls with the new wiring inside. This can take a lot of time and can be the most expensive method, as well as doing damage to older, historically significant buildings.
Contractors can replace the wiring using a series of small holes cut into the walls, along with a thin line called fish tape that draws the wire from one small hole to another. This method requires patching holes, but it keeps the integrity of older plaster walls while installing newer, safer wiring. Running wires behind existing walls can be much less expensive than replacing the walls themselves, and can save homeowners thousands of dollars in construction costs.
Residential Rewiring Costs
The price of each part of the job will vary from season to season, but it's important to remember that many details go into the final cost. It's not the price of the job itself as much as it is that of each individual part of the job.
Building permits are often the first item you'll spend money on when having wiring redone. The permits will cost the same whether you or your electrical contractor pulls the permits, but your professional knows which ones you need and won't waste money on those you don't.
If you've got an older house that still has a fuse box, it will need to have a new circuit breaker installed. This can cost up to $3000, depending on the size of your home's electrical demand load.
While you can save a bit of money reusing your old switches and outlets, you'll still have to pay for your contractor to install them. A residential electrical south Florida contractor will charge around $100 per outlet for installation.
The most expensive materials cost is, of course, for the wiring itself. New wire can cost thousands of dollars, even for the smallest home, but it can pay off in peace of mind.
The most important item on your home rewiring job is the cost of a professional electrical contractor. Rewiring your home is never a DIY job; it takes a knowledgeable professional to safely install an electrical system that will last for decades.