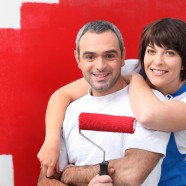 It's always a smart idea to check and update the wiring in a home when taking on a renovation project. The wiring itself is often less work than actually accessing the works inside walls and flooring, so the best time to work on them is when the bones of the house are already showing. Age is always a factor when it comes to electrical work; if your home is more than 30 years old, it probably has outdated wiring and inadequate power outlets. Keep your family and the next 20 years in mind when deciding on how much electrical work to do while you're renovating a home.
Planning for the Future
Technology tends to creep, and the total quantity of electronic gadgets in a home generally increases every year. This means a bigger need for electrical outlets in every room in the house. Look at what your family uses right now and double the number of outlets you think you need. Renovating a room or house is a major project, and something you won't want to do any more often than necessary.
Pay attention to daily tasks your family does now, and those likely to be common in the next ten years or so. These might include:
Recreational reading
Crafts and hobbies
Using a computer
Gourmet cooking
Each of these activities will have special electrical needs, from extra outlets in a kitchen for the gourmet cook to special corner task lighting for a reading nook. Adding extra outlets is rarely a bad thing, especially in the busiest parts of your house.
Updating for Flexibility and Safety
Convenience is one reason to update your electrical wiring, but safety and flexibility of use can be even more important. Older wiring can fray and become a fire hazard, and homes with fuse boxes or inadequate circuit breakers can be safety hazards, as well. It makes sense to check out all the wiring and electrical installations in a room or portion of the home when taking it apart for renovation. Even if you only decide to upgrade a portion of the room, you'll have peace of mind knowing the wiring left behind is safe for your family.
One way to save money on a new wiring system when you're renovating a home is to use the old conduits, if the wiring plan hasn't changed too much. These major installations have already been shown to be safe and logical ways to deliver power and protect wiring. If you find you can use much of the same older wiring plan, then using the old conduit will save you a significant amount of money on the upgrade.
Use a Professional Electrical Contractor
General contractors and handymen are useful for many types of home improvement project, but when it comes to the wiring planning and execution in your home, you need to use a licensed professional electrician. An experienced professional will sit down with you from the first day to coordinate an electrical plan with your renovation and remodeling ideas. He knows building codes and safety issues having to do with electrical work, and can offer improved and alternate ideas for your upgrade plan. A local professional will also know the local building codes, and can pull permits for doing work on your project. He can work with you on the original blueprint and offer suggestions on how to improve on your electrical system for both safety and economy.
Contact us to discuss your electrical needs when you're renovating a house.